Affordable Care Act Flaws Unveiled in ACEP Study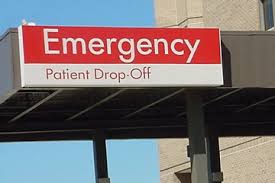 As reported in the Wall Street Journal today in a front section article titled, "ER Visits Rise Despite Law", once again the Affordable Care Act (ACA) has not lived up to promises made prior to passage.
The April 21, 2014, WSJ article discussed the recently released email survey of 1,845 American College of Emergency Physicians (ACEP) members conducted in April, 2014 which stated over half of ER doctors say they are seeing more patients since key provisions of the ACA took effect on January 1 and 86% expect visits to rise over the next 3 years.
This is in contrast to the government's argument to help sell passage of the ACA that ER visits would go down.  Supporters had predicted that expanding insurance coverage would reduce costly emergency room visits because people would go to primary care doctors and not emergency rooms, for medical concerns that could more efficiently be delivered in a doctor's office or other setting, especially for patients who previously were uninsured.
Based on the ACEP survey and other articles, including an Oregon study published in January, 2014 in the journal, Science, clearly Obamacare has not fulfilled the promise that ER visits, and therefore costs, would be reduced.
The online poll follows ACEP's 2014 State-by-State Report Card released in January, 2014, which gave the nation a dismal D+ grade for its lack of support of emergency patients.  Forty percent of emergency physicians polled say their state policymakers are doing a poor job of addressing the issues raised in their state's recent Report Card, which looked at the issues of Access to Emergency Care, Quality and Patient Safety, Medical Liability Environment, Public Health and Injury Prevention and Disaster Preparedness.
In a separate but related article in the April 21, 2014 issue of the LA Times, the Obama administration has quietly adjusted key provisions of the ACA healthcare law to potentially make billions of additional taxpayer dollars available to the insurance industry if companies providing coverage through the Affordable Care Act lose money. The move was buried in hundreds of pages of new regulations issued late last week. But, there is no provision to assist physicians and health care providers who are overburdened by regulations, red tape and paperwork taking care of all the additional patients thus, effecting quality care and the patient physician relationship.  It is time for Congress to take action to resolve the effects of the law's impact, including the deleterious effect on emergency rooms.
Dr. Russell Kridel is a Houston-based Facial Plastic Surgeon in private practice in the Texas Medical Center.