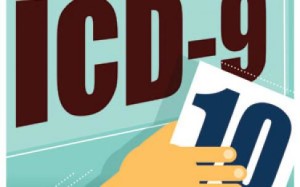 At the 2015 AMA Annual Meeting, physicians passed policy calling on the Centers for Medicare & Medicaid Services (CMS) not to withhold claim payments based on coding errors, mistakes or malfunctions in the system for two years directly following implementation.
With less than four months to go before the deadline for implementing the ICD-10 code set, physicians agreed to seek a two-year grace period to avoid financial disruptions and facilitate a smoother transition. The grace period would allow physicians to continue providing quality care to their patients rather than sideline their patients to meet the harrowing details of implementation.
A 2014 AMA study conducted by Nachisom Advisors on the cost of implementing ICD-10 estimated that a small practice could see payment disruptions ranging from $22,579 to $100,349 during the first year of ICD-10 implementation. The study also estimates that a small practice could incur a 5 percent drop in revenue because of productivity loss during and after the change.
Related policy from the meeting also pushes the AMA to advocate for physician voices to be part of the group that manages the International Classification of Diseases (ICD). Currently, the four cooperating parties that manage ICD code sets are the Centers for Disease Control National Centers for Health Statistics, CMS, the American Hospital Association and the American Health Information Management Association. A physician group is necessary in these conversations because none of the current groups represent providers who have licensed authority to define, diagnose, describe and document patient conditions and treatments.
CMS has acknowledged that the transition to ICD-10 will have an impact on physician payment processes. The agency estimates that "in the early stages of implementation, denial rates will rise by 100-200 percent," according to a 2013  report from the Healthcare Financial Management Association.
"The bottom line is that ICD-10 will significantly overwhelm physician practices with a 400 percent increase in the number of codes physicians must use for diagnosis, which will take time away from the valuable one-on-one patient-physician interface that is the hallmark of taking the best care of patients," states Russell Kridel, MD, member of the AMA Board of Trustees. "We continue to press both Congress and the administration to take necessary steps to avoid widespread disruption to physician practices created by this overly complex and burdensome mandate. Coding and billing protocols should never get in the way of patients receiving high quality care."
Houston Facial Plastic Surgeon, Russell Kridel, MD, is currently a member of the AMA Board of Trustees and the immediate past chair of the AMA Council on Science and Public Health.
Any views expressed on this blog should be considered personal views of Dr. Kridel and are not official statements of AMA policy (which is set by the AMA House of Delegates) nor are they official descriptions of actions of the AMA Board of Trustees.